SORRY BUT THIS BOOK IS OUT OF PRINT - 
WATCH FOR REPRINT INFORMATION COMING.
A Good Place to Miss - Bluffton Stories 1900-1975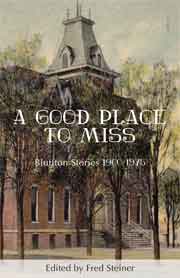 You will be taken to PayPal to securely complete your transaction. You will not be required to create a PayPal account in order to check out.
What was Bluffton like on Saturday nights in the early 1900s? Did Elbert Dubenion really rush for 300 yards in the first half against a very good ONU football team? Did engineers from the Triplett Corp. actually toss Triplett meters out of airplanes to test them? Did John Dillinger fill up his gas tank at Howard Habegger's filling station before he robbed Citizens National Bank? And…how did street painting begin on College Avenue in front of Bluffton High School?
These questions plus lots more have their moment in the sun in "A Good Place to Miss – Bluffton Stories 1900-1975." Fred Steiner, collector of Bluffton stories, amasses a 184-page collection of lots of Bluffton tales, all too good to miss.
Contributors include "Spike" Berry, Richard Boehr, Sam Diller, Charles Hilty, Richard Jordan, Mary Pannabecker Steiner, Darvin Luginbuhl, Robert Kreider and many others.
The book also includes a never-before list of names: every graduate of Bluffton High School by class year from 1881 to 1930 – the first 50 years of BHS graduates.
Here's what others say about the book:
"After listening to and swapping stories with Fred over the past years we ask ourselves, "What has taken so long?" – Everett Collier
"If Thornton Wilder were to visit Bluffton to gather material to write a second Our Town, this is where he would start." – Don Pannabecker
"Now you can understand why it is hard to leave Bluffton." – Phil Zimmerly
"This collection truly demonstrates why Bluffton is a good place to miss." – Brendon Matthews
»