You know the lyrics to "Head and shoulders, knees and toes, knees and toes." A new generation learns these fun action words during "Babies Love Books," held at the Bluffton Public Library. Esther Birkey, youth services coordinator, leads the group. View more photos of the class below.

Click here to view more photos.
History lesson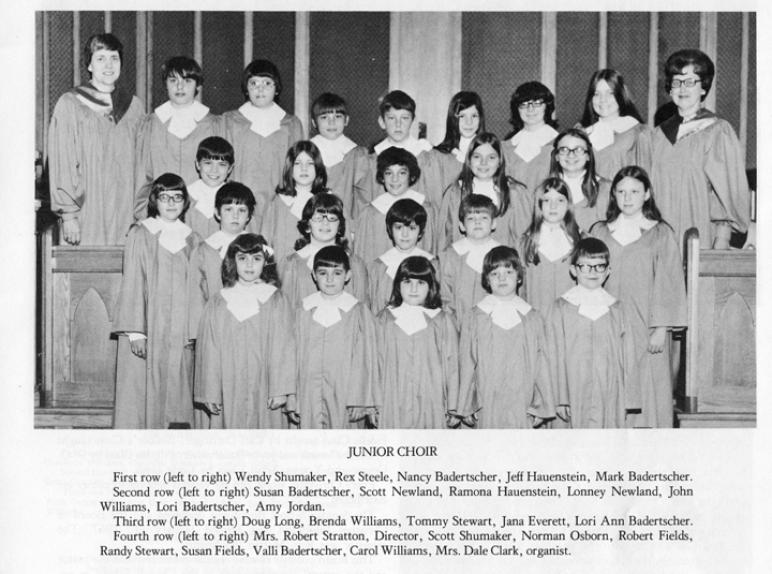 Here is the junior choir of St. John's United Church of Christ, Bluffton, photo taken for its 100th anniverstiy history...
read more
Stories Recently Posted
The Hancock County Sheriff's Office has reported that two people, including a Bluffton man and his cousin, died from gunshot wounds on Monday evening, March 21.

Several Bluffton High School winter athletes are Northwest Conference Scholar Athletes for 2016-17.

Bluffton University's Gospel Choir will present a concert at 6 p.m. Saturday, April 1, in Yoder Recital Hall. The performance is free and open to the public.
 


While some students decided to go to the beach over spring break or home to relax, 10 Bluffton University students decided "Why Knot?" spend the 2017 break week in service.

70 years.

The Bluffton American Legion Post 382 recently recognized two lifelong Bluffton men.

The trauma center at Blanchard Valley Hospital has been verified as a Level III Trauma Center by the Verification Review Committee (VRC), an ad hoc committee of the Committee on Trauma (COT) of the American College of Surgeons (ACS). 

Jackie Wyse-Rhodes, assistant professor of religion, will present the Colloquium "Portrayals of the Natural World in Second Temple Jewish Literature" on March 31.

Her presentation is free and open to the public beginning at 4 p.m. in Centennial Hall's Stutzman Lecture Hall.  

Networking…new trends…future planning…business development.

If any of those words and phrases attracts your attention, Bluffton Public Library invites you to a brown bag business development lunch at 12:30 p.m., Friday, March 24.

Five businesses are winners in this year's Bluffton Center for Entrepreneur's Ropp Triplett Business Plan Competition.

Awards were presented March 21 in BCE open house in the Bluffton town hall. This is the 9th annual competition, according to Brendon Matthews, BCE board president.