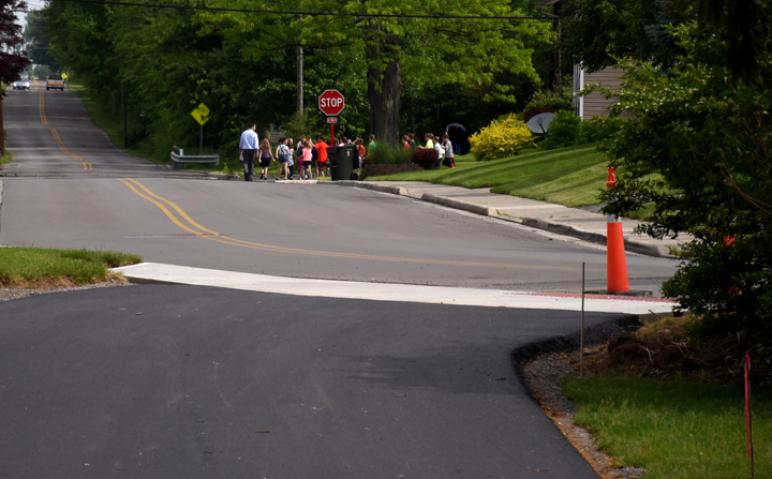 It was perfect day to take a walk. The Icon passed Andy Armstrong with his elementary class looking at trees on the university campus at Kibler-Bentley and Campus View. Then, turning around the Icon walked on the new bike-pathway into Parkview Development. The pathway will eventually connect all the way to Main Street from this point.

Click here to view more photos.
Stories Recently Posted
S.H.A.N.N.O.N. Service Club of Bluffton announces the winners of its "Service To Humanity" scholarship awards.

Award winners are Bluffton High School seniors Andie Schmutz, Jayme Siefer and Douglas Nester. Each student received an $800 scholarship.

Monday, June 5, is Library Fun Day.

It kicks off a two-month summer reading program at Bluffton Public Library.

A memorial visitation will be held for family and friends of Richard Lee Cookson on Saturday, June 17, at the First United Methodist Church, Bluffton.

Bluffton Scrap Artist Quilters is holding a quilt raffle to benefit the proposed Heritage Center of the Swiss Historical Society. 

The quilt was pieced by Sandy Schmidt, a member of the club and machine-quilted by Ruth Grihalva of Forever In Stitches, also a member of the club. 

Six students will graduate from Trinity Lutheran School, Jenera, on Sunday, May 28,  The graduation will be part of the 10:30 a.m. service at Trinity Lutheran Church. Logan

"Talking to loved ones about death is always difficult," said Tonya Meyer, Bluffton Senior Citizens Center director.

Bluffton police release the following notices concerning work on Bluffton streets on Thursday, May 25:

• Bluffton Paving will be milling Eastland Drive and Westland Drive.

• Bluffton Paving will be milling East Elm Street from Huber Street To County Line Road.

Four students from Bluffton were named to the Dean's List for fall semester 2016-17 at Ohio Northern University. To be eligible for the Dean's List, a student must attain a grade point average of 3.5 or higher and be enrolled full-time.

Stratton Greenhouses, 9915 Lincoln Highway, Bluffton, will be open on Memorial Day from noon to 5 p.m.

All geraniums and mixed planters are 25 percent off. Stratton Greenhouses is also open Sundays in May from noon to 5 p.m.

 
History lesson
Here's the Bluffton High School Future Farmers of America (FFA) from the 1965-66 school year. Names of members are under...
read more