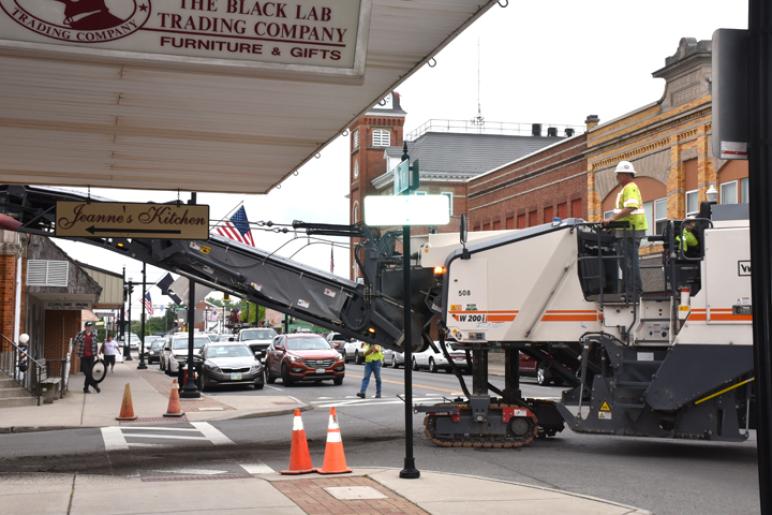 It's rare to see a unlicensed vehicle on Main Street. This was one of those times. Several streets in Bluffton are on the grind list. One is Vine Street. Watch this series of photos to see how street grinding falls into place.

Click here to view more photos.
Stories Recently Posted
You'd think it was the last day of school.

It was.

Interested in watching two minutes go by after the elementary bell rings for the final time in the 2016-17 school year?

The Bluffton High School boys' track team finished three points from runner-up in the Division III regional meet at Tiffin.

Silver Sneakers pickleball is coming to Bluffton Family Recreation on Thursday mornings in June.

Play takes place from 9:30 to 11:30 a.m., according to Joseph Beagle, BFR director.

Pickleball is free for Silver Sneakers members, and $4 for non-Silver Sneakers members.

Bluffton University's 20th annual Alumni and Friends Golf Scramble will be held on Saturday, July 15 at Colonial Golfers Club in Harrod.

The application deadline for next year's Allen Lima Youth Leadership Class of 2018 is approaching, ALL Executive Director Heather Rutz said.

Bring your lawn chairs and blankets and enjoy a free, family-friendly movie
on the Presbyterian church lawn.

The animated movie "Sing" will be shown at 9:15 p.m., Friday, June 16.

Eight valedictorians and one salutatorian graduate in the Bluffton High School class of 2107 on Saturday.

It is the 136th annual BHS commencement. It is held in the Bluffton High School gymnasium. Doors open at 5:30 p.m. and the ceremony starts at 7 p.m.

Bluffton Middle School principal, Kyle Leatherman, shared his talent on Friday morning at the middle school year-end talent show.

He wasn't even on the program.

MORE PHOTOS AT BOTTOM OF STORY -

Bluffton Middle School students shared the stage on Friday morning for the school talent show.

It was a packed house of students and parents and grandparents. Here, Jasmine Whitlow sings "Loyal," as the closing number. She received a standing ovation.
History lesson
Here's the Bluffton High School Future Farmers of America (FFA) from the 1965-66 school year. Names of members are under...
read more