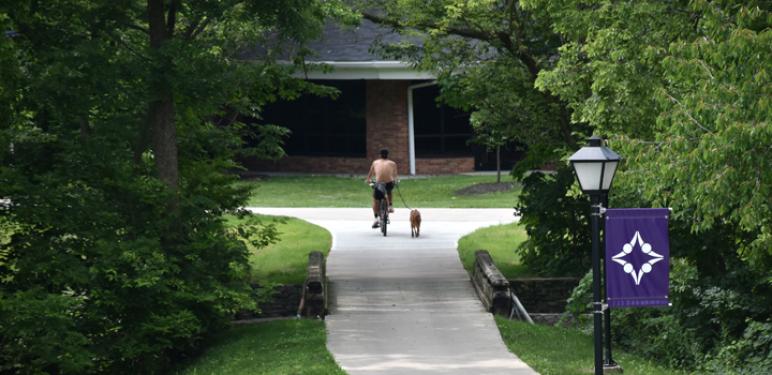 Dog days of summer are here. It's a great time to take your pooch on a bike ride-run. Here's a dog and companion with this idea, crossing Beeshy Bridge on the university campus.
Stories Recently Posted
FROM ADA ICON - Gardens at Liberty National Bank, Ada,  have gone tropical this year. Here, a braided hibiscus blooms in several colors because it is four separate plants, each a different color, that makes the display look like a multicolored hibiscus, which really doesn't exist in nature.

Yes, there's something odd about this photo.

But check out the two photos below and see the point of this photo exercise.

It's a before and after or, better still a during and after of East College Avenue. The before/during photo was taken Monday. The after was taken Wednesday.

The Bluffton Area Food Pantry has distributed food and other essential supplies to approximately 50 area families this summer.

Mennonite Memorial Home, Bluffton, has been awarded an overall 5-Star Quality Rating by the Centers for Medicare and Medicaid Services (CMS), according to Laura Voth, CEO of Mennonite Home Communities of Ohio.

Icon viewers:
Mayor Judy, thank you for sharing my concerns with the Chief. Chief Ryan came to my home this afternoon. We had a very open, honest and  enlightening discussion. 

Bluffton Auto Repair Center, 302 N. Main St., will hold a customer appreciation day from 10 a.m. to 3 p.m., Friday, Aug. 11.

The event includes Larson Barbecue. There will be a 50-50 raffle and prize drawings. Proceeds from the raffles will go to the Bluffton Food Pantry.

Ivan and Rachel Friesen of Bluffton will observe their 50th wedding anniversary on Sunday, Aug. 6, with an open house reception, from 2 to 4 p.m. The location is Grace Mennonite Church, 502 E. Main St., Pandora. There will be a short program at 3 p.m. The couple requests no gifts, please.

Ever wonder what exactly you should check on your vehicle between visits to a mechanic? Or, how about before a long road trip?

When will the Bentley Road overpass be opened again?

Everyone in Bluffton asks that question. Here's some photos to show the stage of the project at the moment. In a few weeks cement will be poured, and that will take place at night.
History lesson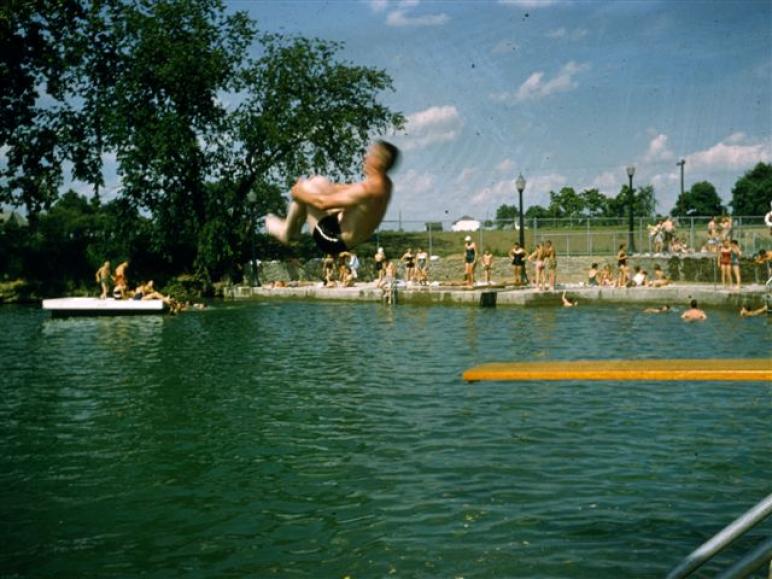 The Icon has posted these three photo previously, but it's summer and let's go back to the Buckeye.
Here's three...
read more