Posted by

Staff

on

September 18, 2023 - 6:00am
Project nears fundraising goal of $90K
By Paula Scott
With a 2,600-foot segment currently under construction along State Route 103 between I-75 and County Line Rd, as well as a 1,740-foot segment on County Line Rd. from SR 103 to Bern Rd, the single biggest addition to date is being made to Bluffton's network of bike and pedestrian pathways. The September meeting of the Bluffton pathway board focused on this "Lions Way" expansion, discussing construction updates, financial contributions and the possibility of dedicating the pathways this fall.
On State Route 103, there will be an 10-foot wide asphalt pathway with decorative lights on the south side of the road from County Line Rd. to Dave's Way. At that point, the pathway will cross the road with a marked crosswalk including pedestrian activated beacons. An additional 920 feet of 6-foot wide sidewalk will be installed connecting businesses near I-75.
On County Line Rd. an 8-foot wide pathway will be installed on the east side of the road and will be lit by existing street lights.
Some 17 businesses on State Route 103 will be more accessible via these pathways. Customers and employees will benefit from a safer route to these nearby restaurants, gas stations, offices, hotel and other services. At this location, SR 103 is a two-lane road with narrow shoulders and a speed limit of 45 m.p.h.
The board discussed the project status, which was one week behind schedule according to assistant village administrator Bryan Lloyd. He noted that a recent downpour had floated 54" tiles out of position. On SR 103, Helms & Sons crews are roughing in the pathway location. Don Snyder Excavating crews on County Line will be coordinating work with Helms & Sons because both companies will begin paving at the corner of the two streets.
CONTRIBUTIONS
Board president Mitch Kinglsey shared a list of contributions. With a goal of $90K, fundraising is just $19K short of that mark. Donations will be accepted through the month of September. The highest single contribution for these segments–made by an individual–was $30K. 
It was noted that these are likely to be the most heavily traveled segments of the pathway. Two signs with the names of donors giving more than $1K will be installed. Board members emphasized that a lot of money can be raised $25 at a time. A form for making donations is attached HERE.
The board reviewed an image of a crosswalk with flashing beacons that will aid cyclists and pedestrians crossing from one side of SR 103 to the other. Kingsley noted that a turn lane is not part of this project.
While both pathway segments will be completed this fall, dates have not yet been set for dedicating these new additions.
The meeting was conducted by committee chair Mitch Kingsley and was also attended by Travis Music, Jenny Pilarowski, David Smith, Dima Snyder, Ben Stahl and Phill Talavinia.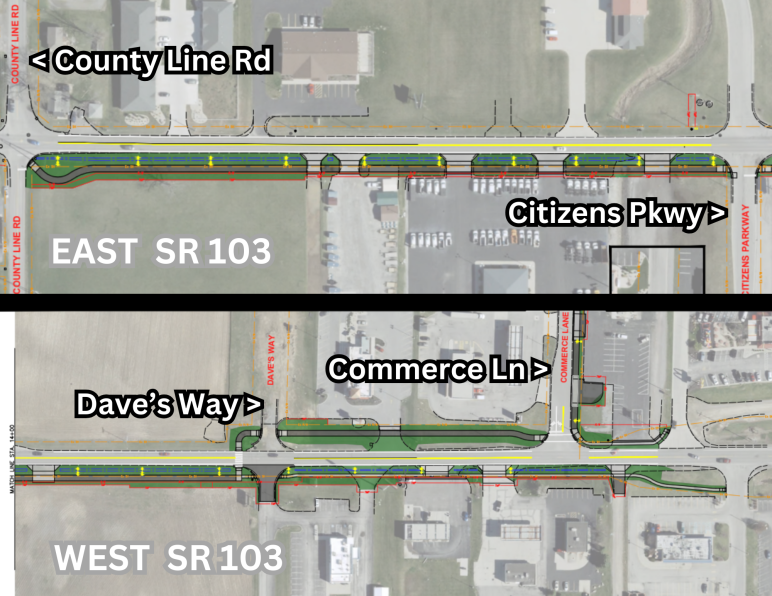 »