Posted by

Staff

on

March 17, 2023 - 5:30am
By Bill Herr
Bluffton Icon columnist
What is the most treasured trophy ever won by a Bluffton Pirate team in sports or academics? I recently looked in the sports trophy case by the gymnasium and the academics trophy case by the old gym. Here are some candidates in sports: 1929 State Runner-up Boys Basketball, 1981 State Champions Boys Wrestling, 1991 State Runner-up Boys Football 1997 StateRunner-up Girls Track & Field, 2000 StateRunner-up Girls Basketball, 2008 State Champion Boys Track & Field, 2019 State Runner- up Boys Soccer.
In academics, I counted eight Pirate first place plaques won in the Northwest Conference. I will mention two trophies. In 2001 in the Ohio Academic Competition Bluffton took third place. In the 2015 High School Scholastic Bowl at Wright State University Bluffton was the "Winning Team in the Smaller School Division." Also in the trophy case are first place plaques from the Ada Invitational, Van Wert Scholastic Bowl, and Bath Invitational. A Pirate academic team also won the Black Swamp Quiz Bowl Tournament, which is now called the Allen County Quiz Bowl Tournament.
In my opinion, the most treasured Pirate trophy of all time was won by the Bluffton High School debate team in 1932. In the state championship final, they defeated the largest school in Ohio under one roof at that time, Canton McKinley. And the trophy is lost. More on that later.
In 1993, when I first heard about that debate team, the coach of the team, Mr. Paul Stauffer, was alive and well and living in Bluffton. Cara (Young) Davies, a former student, and I interviewed him and this is his story.
CONTINUES
Mr. Stauffer was hired in 1931 to teach forensics (debate),drama and speech. He had been a debater on the team at Bluffton College and told us he had always studied and tried to improve in public speaking and debate.
The year 1931 marked the first year there was national debate competition between high schools and it was held at Racine, Wisconsin.
There were inter-class debates at Bluffton High School. That first year the debate team got experience but didn't win any tournaments. But a Pirate girl did qualify for individual debate at the Nationals. A girl from another school also qualified. Mr. Stauffer and the other coach traveled with the girls and their mothers to Racine, Wisconsin. They didn't win but, in Mr. Stauffer's words, "We learned what to do and what not to do."
In 1932 the three students on the debate team were Ralph Locher, Don Smucker and Gordon Alderfer. The team participated in round-robin tournaments from Ohio all the way to California. When the state tournament began, they won their first district competition and then had to compete against other district winners. The teams were selected not by size, but by how they won. Bluffton's team kept winning and made it all the way to the State Championship debate, held at University Chapel in Columbus on Saturday, April 9, 1932, at 7:45 p.m. Mr. Stauffer kept the original program and showed it to us. A string quartet played four classical songs to start the evening. The next part of  the program read, "Construction Speeches (10 minutes)." Each debater had to speak on the same proposition. It read as follows: "Resolved, that the United States Should Enact Legislation Providing for Compulsory Unemployment Insurance." The front cover of the program was as follows:
FIFTH ANNUAL
Championship Debate Of
THE OHIO STATE HIGH SCHOOL DEBATING LEAGUE
UNIVERSITY CHAPEL
SATURDAY EVENING, APRIL 9 Seven Forty-five of Clock
BLUFFTON HIGH SCHOOL
Vs.
CANTON McKINLEY HIGH SCHOOL
The Bluffton debate team won the state championship.
Mr. Stauffer and his wife, Evelyn, took the boys and drove an old Ford out to California where the national championship was held that year. They didn't win.
Ralph Locher went on to become the 50th Mayor of Cleveland, Ohio. Later he became a member of the Ohio Supreme Court. Don Smucker became a college professor,and then the President of a small college in Canada. Gordon Oliver became an outstanding writer for municipal magazines.
Mr. Stauffer also directed a number of plays at Bluffton High School. He retired a few years later. When I asked him why he retired from teaching high school, he replied, "When a teacher could no longer grab a kid for discipline, I retired." He said that he married one of his former students, Evelyn Gratz. She was an excellent debater and traveled with him and her mother to the Nationals.
He next taught several years at Bluffton College. He and Evelyn had two daughters, Ann and Jean. Jean has passed but Ann remembers her dad directing Shakespearean plays at the college. The plays were given outdoors on the old baseball diamond. The characters would emerge from trees surrounding the baseball field. Next, Mr. Stauffer worked at Triplett Corporation as their purchasing agent for several years. He said Ropp Triplett started several small businesses after he retired. Ann said that her father read scripture at her daughter's wedding. The priest said that he had never heard scripture read so well. He was one of the most intelligent and friendly persons you would ever meet. Seven minutes of our interview with him is on DVD at the Bluffton library and can be checked out.
And now, what happened to the championship trophy that was lost? Mr. Stauffer said he believed it was in the storage room on the stage of the old gym. Someone probably gave the directive to clean out the old trophies and other stuff stored there and no one knows what happened to it. What a loss!
Thankfully, he had a picture of the elegant trophy and it is in the video. At present, Mr. Todd Boblitt, Robotics and Engineering teacher at Bluffton High School has a 3D printer and is planning to work with his students to create a replica. Wouldn't it be cool if, 90 years later, students from today could do this as a gift to the 1932 students? While it wouldn't be the original, it would find a place to proudly stand with other academic awards. And now you know why I consider this lost trophy won by the 1932 Ohio State Champion Debate team from Bluffton High School to be the most hallowed of all the great trophies won by outstanding Pirate students. Pirate Pride is Forever.
The attached newspaper clippling was found pasted inside the back cover of the 1932 BHS yearbook archived at the Bluffton Public Library. Caption: DON'T TRY TO ARGUE with this group; they are the champions of the Ohio State Debating League. Paul Stauffer, director; Gordon Alderfer, Ralph Locher, and Don Smucker, all of Bluffton High School. At right the popular superintendent of Bluffton schools, A. J. B. Longsdorf. The ewspaper source is unidentified. The yearbook can also be found online at https://ohiomemory.org/digital/collection/p15005coll28/id/914/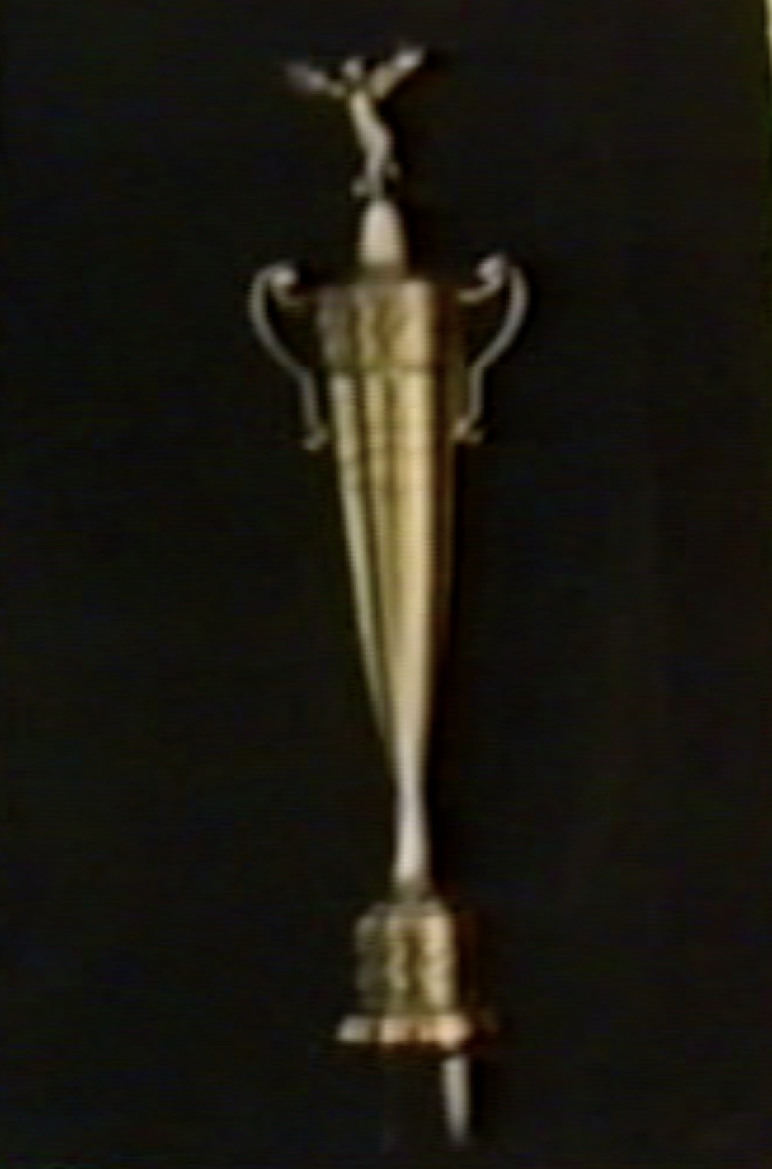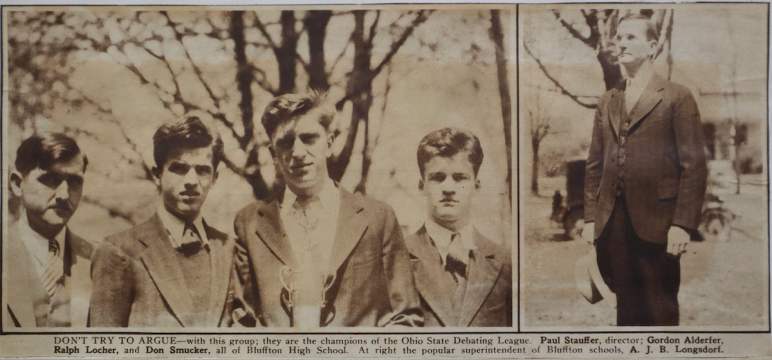 »