Posted by

Paula Scott

on

May 24, 2023 - 6:49am
UPDATE POSTED AT 9:53 A.M.
According to www.13abc.com / 13 Action News early on Wednesday, May 24, "A police department in Henderson, Kentucky ... "had arrested one of the men that escaped from the prison in Lima earlier this week."
James Marion Lee was arrested but Bradley Gillespie, fled on foot and had not yet been apprehended. Gillespie was convicted for a double murder.
The following media release was issued at 11:32 p.m. on Tuesday, May 23:
LIMA – The Ohio State Highway Patrol and the Ohio Department of Rehabilitation and  Correction are investigating after two inmates, Bradley Gillespie, 50, and James Lee, 47 escaped from the Allen/Oakwood Correctional Institution (AOCI). 
Today [Tuesday, May 23] during a prisoner count at 11:00 a.m., ODRC officials determined Lee was missing. Angela Stuff, AOCI warden, approved an emergency count of all prisoners in  the facility and escape posts were manned. During the emergency count, it was  discovered Gillespie was also missing. The ODRC notified law enforcement and officers from multiple jurisdictions, the Allen County Sheriff's Office, and the Patrol responded to the facility. 
During the course of the investigation, prison officials determined Gillespie and Lee  were last observed on surveillance video inside the facility at 8:41 a.m. on May 22. 
The Patrol continues to work with our local, state and federal law enforcement partners  to investigate potential leads.
CONTINUES
The United States Marshal Service, Ohio State Highway  Patrol and the Allen County Sheriff's Office are offering up to a $21,000 dollar reward for information that leads to the capture of Gillespie and Lee. Anyone with information  is encouraged to contact the Findlay Patrol Post at 419-423-1414 or the United States  Marshal Service at 1-866-4WANTED. If either escapee is located by the public, do not  approach them and contact 9-1-1 immediately. 
ODRC is also conducting an internal investigation. Sheriff Matthew Treglia will provide an update to the community at 6 a.m. on May 24 at the Allen County Sheriff's Office. Relevant updates will be provided on Twitter at @OSHP_NWOhio.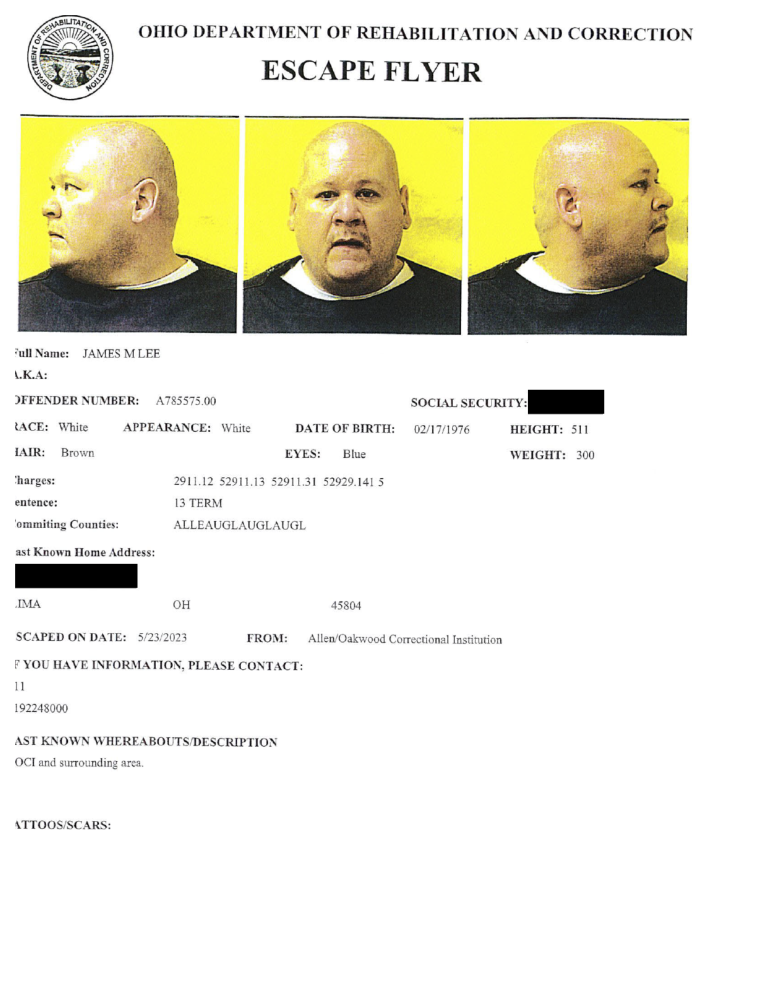 »