Posted by

Paula Scott

on

November 29, 2022 - 5:52am
By Paula Scott
The 2022 Blaze of Lights celebrations have kicked off the Christmas season in Bluffton: holiday music now plays for downtown shoppers during the day and the lights of the Ream Folk Art Display will sparkle at night through the first of the year.
The 36th annual Blaze of Lights Festival on Saturday, November 26, was attended by exceptionally large crowds along the Main St. parade route from the neighborhood of Boutique 415 to College Ave. Although blankets, hats and gloves were in evidence, the weather was pretty spectacular for late November in northwest Ohio.
» CONTINUES »
Chief of Police Ryan Burkholder led the parade driving a Bluffton cruiser and wearing a Santa hat.
This year's "Candyland" theme seemed to spark the imaginations of float makers and the appetite of parade watchers. Somehow, some preschoolers were enticed to forgo the candy haul to ride on floats followed by marching parents. Buddy, the "elf on the shelf" appeared in a hot red sports car atop a huge flatbed trailer–and he closely resembled Tony Pinks. Baton corps included twirlers of all sizes. How Town Crier Kevin Gratz resisted asking, "Honey, who shrunk the kids?" we don't know.
The parade featured several dignitaries: Mayor Richard Johnson and his wife Ruth were seated atop a white Chrysler convertible, a convenient perch for tossing candy to onlookers. Grand Marshall Richard Ramseyer and his wife Elfreda looked regal in a glossy black SUV. And Switch Hitter Elnora Stratton looked pleased as punch to be chauffeured by Ryan DeMarco in his 1974 Corvette Stingray.
Gratz and parade chairman Junior Weihrauch provided information about parade units from the Blaze stage (a flatbed truck generously provided each year by Diamond Manufacturing) at Main and Cherry streets. Nearby, Bluffton Area Chamber of Commerce director Jim Enneking was on hand to enjoy the fruits of his many, many weeks of preparation and to assist with last minute needs.
Trophies for best floats went to:
1st Place - Bluffton Child Development Center
2nd Place - Bluffton Dairy Freeze
3rd Place - CPC Contracting
Mayor's Trophy - JD Snyder Excavating
Bluffton Area Chamber of Commerce Trophy - Trinity Lutheran Church of Jenera
Some Blaze traditions are flexible. Santa and Mrs. Claus rode in style on the antique Bluffton fire truck driven by Fire Chief Jon Kinn. While they have led the parade in recent years, the pair served as the big finish for the 2022 procession before visiting with children under a heated tent across from the Blaze stage.
During the course of the parade, downtown Bluffton goes from daylight to dark. By the time the Bluffton High School show choir appeared, it was fully dark. Visitors formed a big semi-circle around the singer-dancers, who entertained them with classics beginning with "You're a Mean One, Mr. Grinch."
Next, Gratz recited the biblical Christmas story, a tradition started in the 1980s by Nelson Steiner, the first Blaze of Lights Town Crier. 
Gratz then welcomed 99-year old Elnora Stratton, the 2022 Switch Hitter, to the Blaze stage. Elnora helped her husband Jim found Stratton Greenhouses, which was created in 1949 as a source for greenhouse-grown tomatoes. She was also director of nurses at Bluffton Hospital. In a bright red puffer jacket, Elnora took a line out of Santa's playbook, noting that she has a very good memory. "So, if you're good, I'll remember. And if you're bad, I'll remember that, too…. This is a wonderful occasion. Thank you all, very much."
The crowd joined in the countdown, starting with ten and ending with "Ahhh." The lighted evergreen trees draw the eye to the center of downtown Bluffton. How tall are they? Tall enough to be seen as you enter town on Jefferson St. Once you arrive at the Ream Folk Art Display, there are close to 200 folk art figures (168 created by the Reams) depicting many familiar Christmas scenes.
Gratz was joined by his daughter Kara Zink, leading visitors in carols beginning with "Hark the Herald Angels Sing." To look up and down the street and see the huge number of people was special, said Gratz, who heard people caroling all around the display. He joked that it just needed a little fake snow to make it a true "Hallmark" moment.
The evening also included plenty of food and shopping opportunities. Locations with extended or late hours included Black Lab Trading Company, Bike Crazy LLC, Bluffton Senior Citizens Center, Book Reviews, Boutique 415, Dough Hook Meat Market, Et Cetera Thrift Shop, Gallery 323, Roots by Strattons, Shirley's Gourmet Popcorn Company, Ten Thousand Villages, Town & Country Flowers and Twisted Whisk Cafe.
On Vine St., Kira's Flipside Grill served pizza by the slice, Double D's Nuts served freshly roasted and sugared nuts and Greenhorn provided several warm vegetarian dishes as well as beer, bourbon and hot chocolate. Visitors also enjoyed sit-down dining at the above locations and at Campito Lindo.
Under a lighted, heated tent there was seating and live jazz by the Jerry Szabo trio–with Jerry on drums, Dave Sycks on trumpet and Dean Altstaetter on piano. They were followed by The Pinup Project with lead singer Morgan Hammer.
Sponsors that made the Vine Street entertainment and amenities possible are Randy Matter-All Service Aeration; Bluffton Area Chamber of Commerce, Tony Pinks-DNC Hydraulics; Eikenbary Landscape Co.; Greenhorn; Katie Kiefer-Sielschott, Walsh, Keifer, Regula & Sherer, Inc. CPAs; Lisa Wenger, CCR Realtors.
Couldn't make it to the Blaze? A video by visiting journalist Eddie Arruza can be viewed HERE.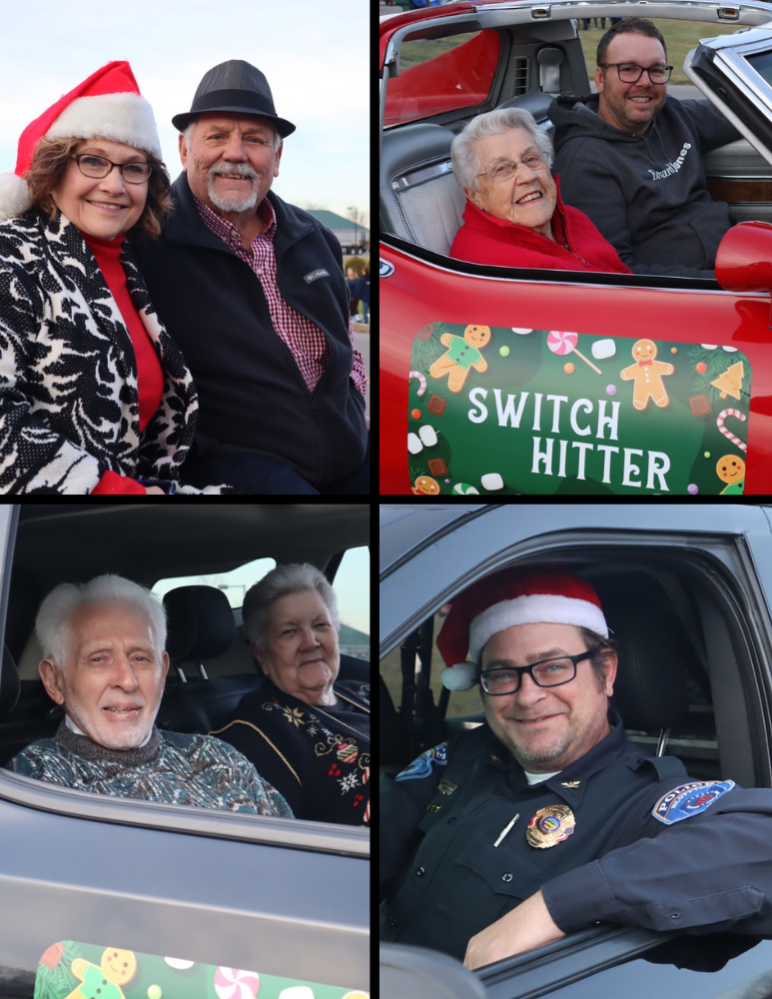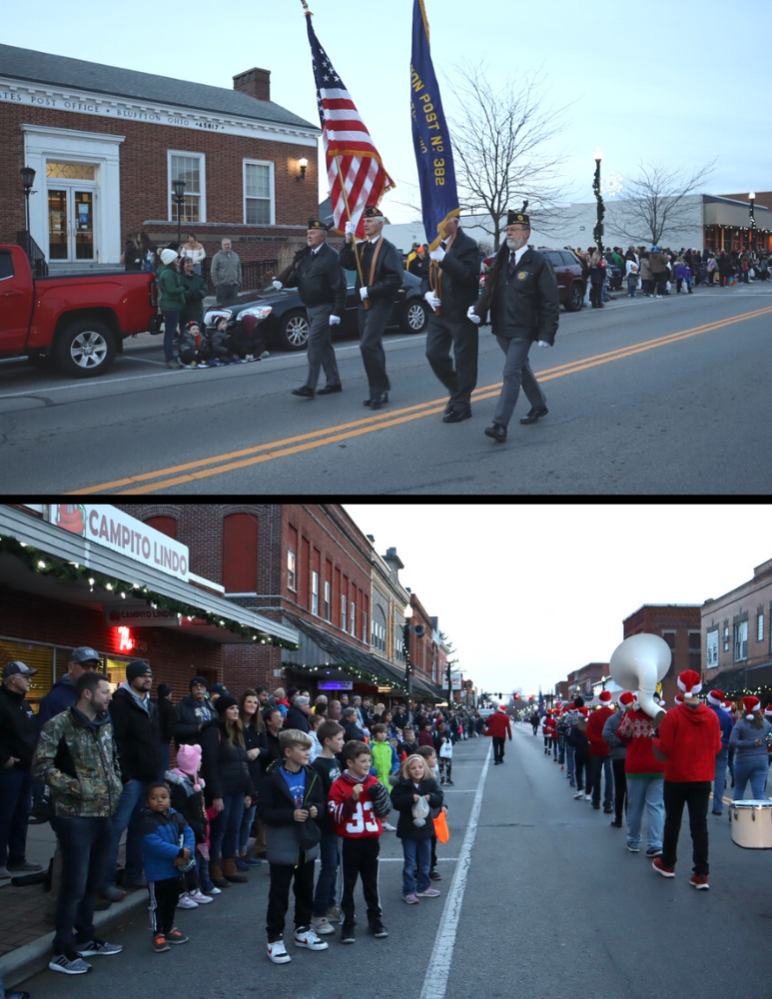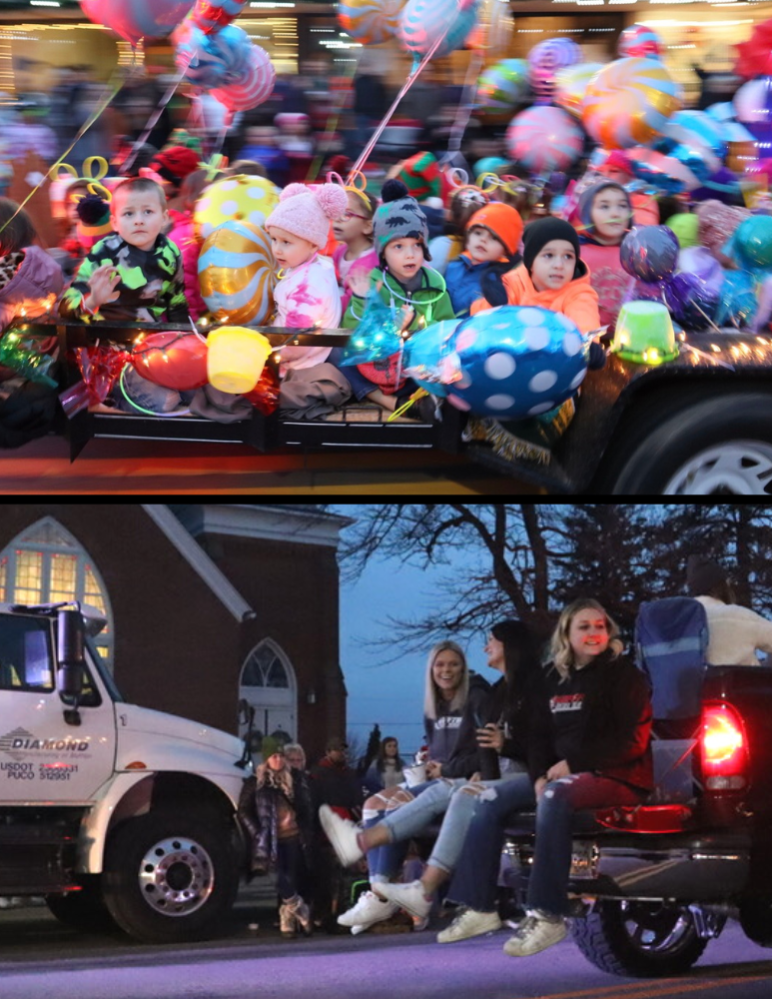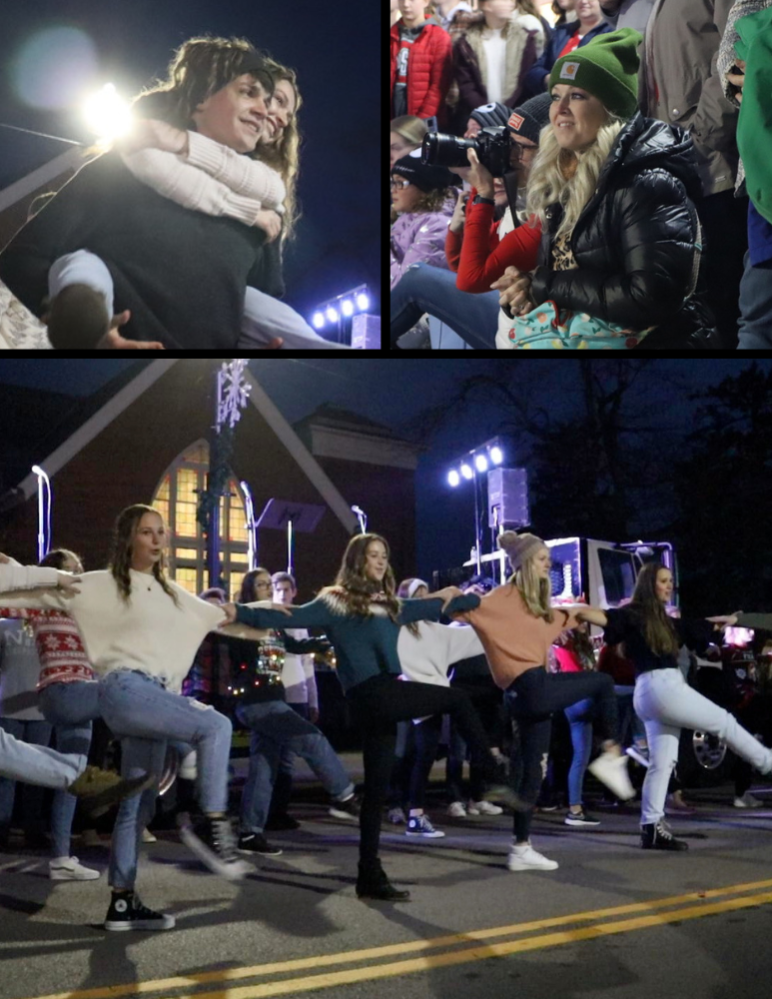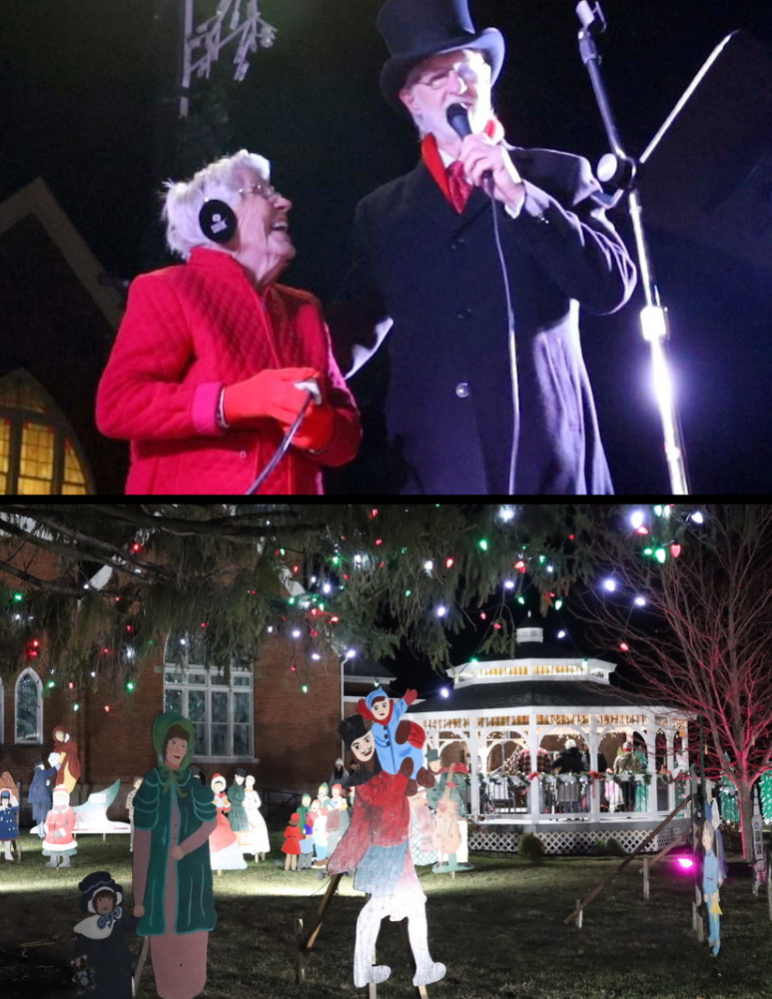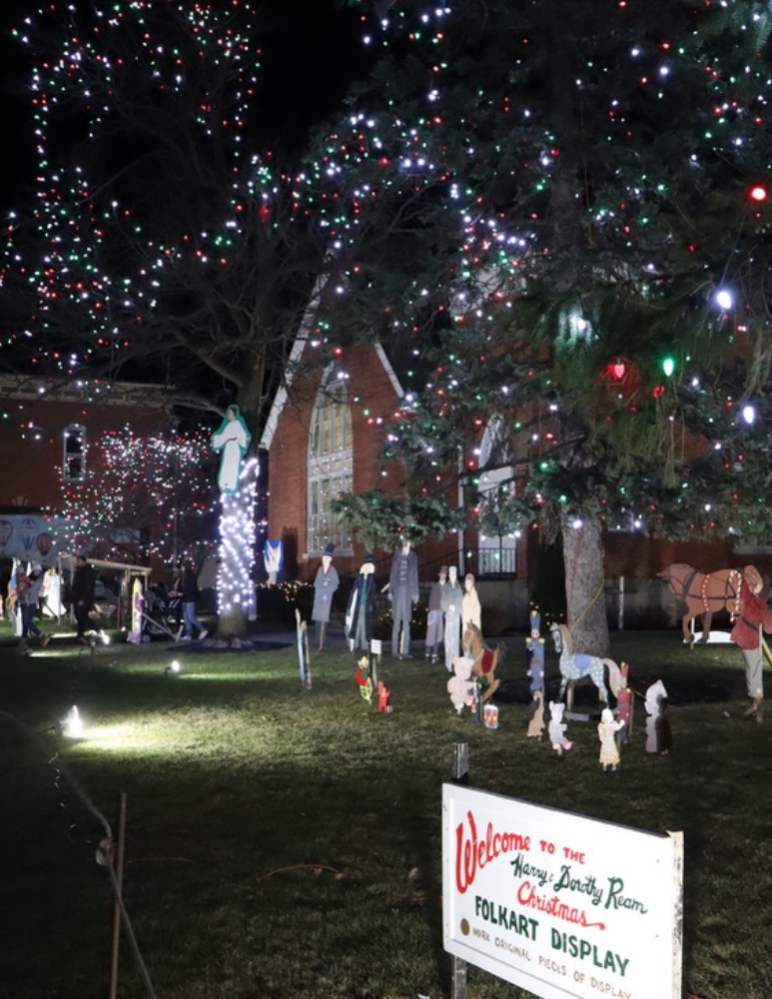 »